Sneezy polar bear needs loving care
Fun sniffling and sneezing sounds
Soft and cuddly
3 x LR44 alkaline batteries included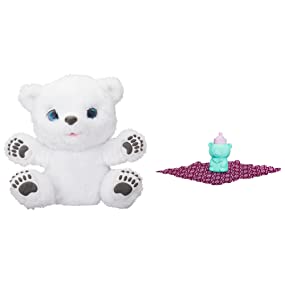 FurReal Snifflin' Sawyer
Welcome to the furReal brand's family of pets – engaging and often surprising friends that can become a child's favorite companion. Unlike other plush toys, furReal pets aren't intended to be merely watched or collected; they're designed to be played with, lived with, and loved. Their exciting and engaging play can help create unforgettable childhood memories.
Sneezy polar bear needs loving care
Fun polar-bear sounds
Soft and cuddly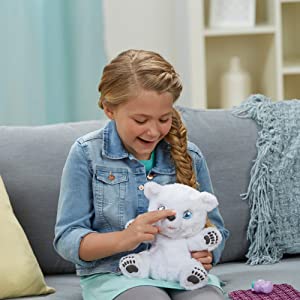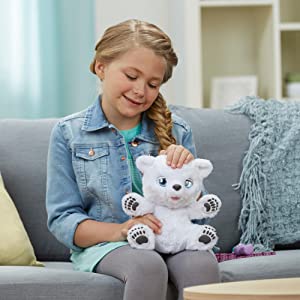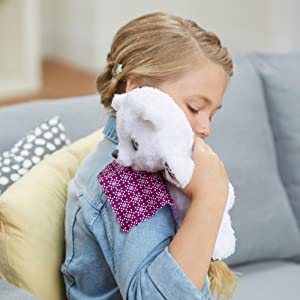 Sweet baby bear has the sniffles
The Snifflin' Sawyer pet is a sweet baby polar bear who responds to touch with adorable sniffling, sneezing, and happy baby sounds. Boys and girls alike can enjoy taking care of such a cute little cub! When they gently press on her back, her head moves, her eyes close, and she makes happy sounds. They can pet her on the head to comfort her (her eyes open and close!), feed her with her bottle, and cuddle her with her favorite blanket.
Sneezes and happy sounds
When her nose is tickled in a downward direction, she makes happy sounds – and sneezes! Whether she's feeling fine or down with a case of the sniffles, the Snifflin' Sawyer pet is adorably loveable – and with poseable legs, she's a huggable cub, too.
So loveable… so huggable
With soft fur and a sweet expression, this loveable baby polar bear is a friend to love, play with, and cuddle. Kids can enjoy looking after a sneezy little cub who needs their care and affection. Whether she's sniffling or making happy little cub sounds, she's sure to capture the hearts of everyone around her.